Discover Adventure Motorcycling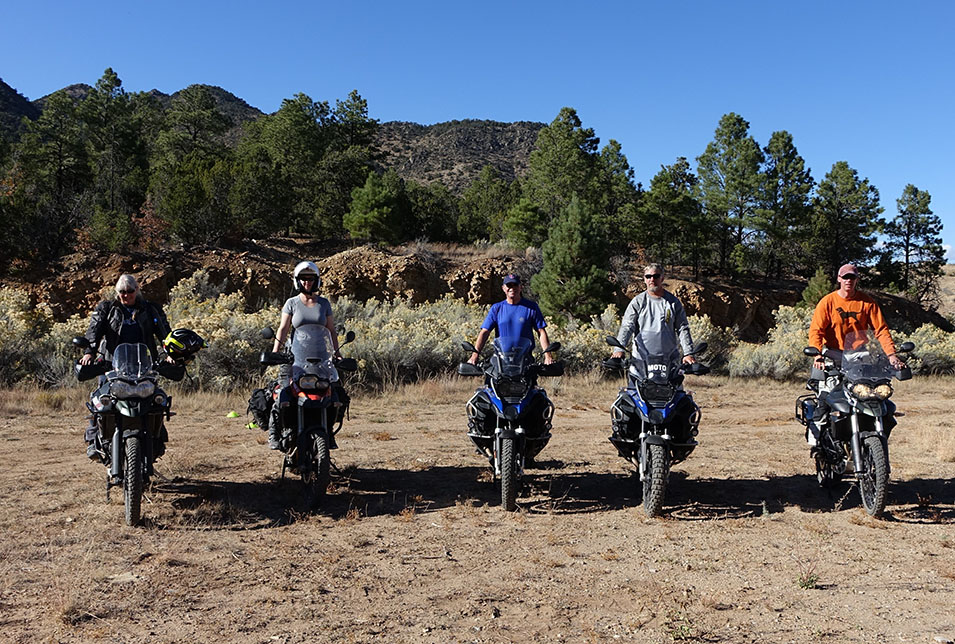 Riding a Dual Sport or Adventure Motorcycle off-road requires a different set of skills.  Learning and building these skills requires training for when your adventure goes beyond the pavement…
Surely by now you've noticed a few dirt roads peeling off into the distance and wondered where they might have taken you.  Riding where the rubber meets the road is only the portal to the off-road adventure you're about to have.
The type of boundless riding you're craving is at your fingertips; boundaries only exist in your mind.  But we know firsthand the challenges of learning to ride off-road.  Our training courses are designed to make you feel more comfortable handling your motorcycle in various conditions, offer you knowledge and skills to handle common trailside problems, and build the confidence you need to help you discover what the world has to offer.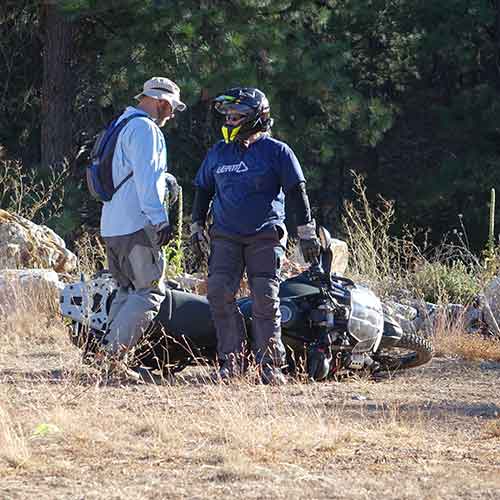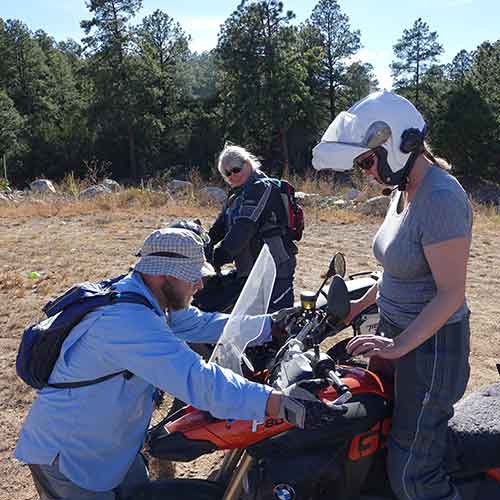 Off-road skills don't happen overnight.  We want you to feel comfortable when you transition from the pavement to the dirt, and our training will help you build the finesse required to adventure ride safely.  Breaking down each movement into easy-to-understand steps is the key to our training.  The Triple Threat—or clutch, brake, and throttle—is one example of our focus on the fundamentals of controlling the motorcycle at slow speeds.  By re-learning how to precisely control the actions of clutching, braking, and throttling, you'll maximize your riding capability using this core principle.  The Triple Threat is the backbone of our training program and it carries over into every exercise we do.
At the end of the two day training, gaining mastery of off-road skills is up to you.  We offer the tools and training, but it's up to you to RIDE and put those skills into action.  One thing is for sure…you will have a lot more confidence, the necessary tools, and refined skills to help you "Ride your Ride."  Practice has never been so fun—go beyond the pavement!
A list of training exercises and skills:
Common Questions:
Price for 2 Day Training Event
$425
Our Friendly Refund Policy:
We do not require a deposit for our events.
If something comes up, and you are not able to make the event, we can either arrange for a future event or provide a refund. Processing fees may be applied to the refund.

Sign Up For Discovery Today!
2544 Camino Edward Ortiz
Santa Fe, New Mexico
There are no upcoming events to display at this time.
---
Sep
22
Sat
Learn – 2 day training – Level 1 – Denver Area

@ Denver Area @ IMI Complex
---
Stay Tuned as Training Locations Expand
All Other Trainings
Sep
22
Sat
Learn – 2 day training – Level 1 – Denver Area

@ Denver Area @ IMI Complex
Oct
19
Fri
5-Day Ride-Out Lite

@ New Mexico
Motorcycle Training & Wilderness Survival Skills
5-Day Ride-Out Lite
So, you hopped on the bandwagon and joined the adventure motorcycling clan. You purchased an adventure bike, taken an off-road motorcycle training or two, and have some experience camping.
But…. you have lingering questions about outfitting your bike and hesitancy when venturing into backcountry riding locations for a night or more because of the unexpected.
In the Ro5 Ride-Out Lite training you'll get answers to these questions and more. You'll build your confidence, learn self-reliant skills in the wilderness, enhance your riding ability and gain a clear understanding of what to do when things take an unexpected turn in the saddle. Hope for the best, prepare for the worst.
Welcome to the 5-Day Ride-Out Lite, we fill in the gaps where other trainings fall short.