Level 2 Intermediate Training
"I've got some skills, but I want more!"
Have you been riding adventure bikes for years but with no formal training? Perhaps you're looking to "refresh" training that you took 1, 3 or 5 years ago?  Have you already taken our Level I Training and looking to take the next step and up your game? Or maybe you just want to take a refresher course each year to kick off the riding season. If you've answered yes to these questions, Level II Training is for you.
Continuing from our Level I class and/or building upon the skills you have already, this 2-day training class further refines your control of the motorcycle through the mastery of "The Triple Threat" – the Clutch,Throttle and Brake at slow speeds, over terrain and during tight maneuvering.  Body position is critical in Level II training and will be explained and practiced at length.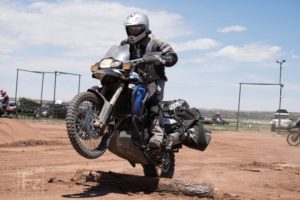 Unique to West 38 Moto, is our proven advanced training curriculum, which allows for Day 1 in a controlled environment at our training facility to learn new skills, followed by Day 2 on-trail putting your new skills into action.  Through our years of experience, we have found that students learn best in a closed-circuit environment, but that those new skills are best retained and ingrained by going out in a real-world and carefully selected trail environment to practice those new skills. Our goal is not only to equip you with the knowledge necessary to become a better rider, but put you in a real environment where skills can be practiced, understood and remembered while under the watchful eye of a trained instructor.
Level II Training is for life-long learners; those who realize motorcycling is a perishable skill.  At the end of this two-day training event, you'll be ready to ride more technical trails, further gain confidence and become a better rider. Practice is still key, however. Ride with others who have good riding techniques, display safe and considerate motorcycling etiquette and encourage you to "ride your own ride".  Also consider a Backcountry Readiness Ride, multi-day tour or Level III Training with West 38 Moto to up your game.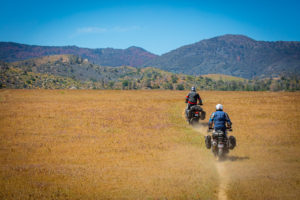 A list of Intermediate training exercises and skills:
A Quick refresher of the beginner training skills will be done. We will then move into a more advanced set of skills using the same principals.
This class will be a mix of a controlled setting with cones and drills and real world trail riding!
Common Questions:
---
2020 Colorado Training Dates
Colorado training site is 30 minutes northwest of the town of Fort Collins. Exact meeting time and place will be communicated after you choose a date and sign up!
June 20-21
July 18-19
August 8-9
September 19-20
---
2020 New Mexico Training Dates
New Mexico Training offering is training only at a private site. At the moment, we are not offering camping at the training site. The training site is about 12 miles outside the town of Madrid, NM. Exact meeting time and place will be communicated after you choose a date and sign up!
May 30-31
June 13-14
July 25-26
August 22-23
September 26-27
October TBD
November TBD
---
Our Friendly Refund Policy:
We do not require a deposit for our training events.
If something comes up, and you are not able to make the event, we can either arrange for a future event or provide a refund. Processing fees may be applied to the refund.
---
38°45′16″N 106°28′42″W