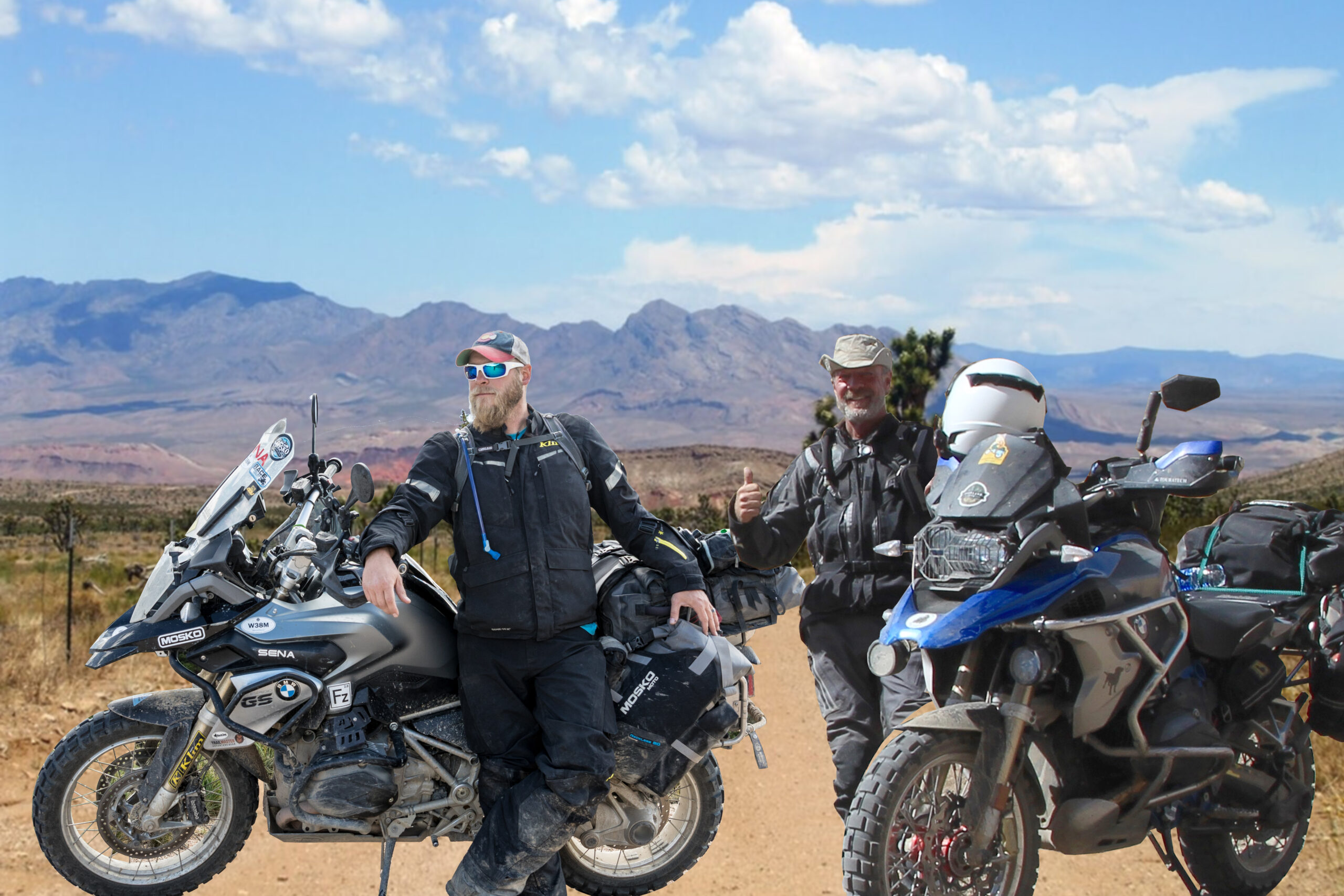 Join Dusty & Bill on the Wild West!
What's better than mountains, motorcycles, and rugged off-road terrain? How about mixing those on an immersive off-pavement tour/training experience with industry-renowned adventure riding instructor/guide and Host of MOTOTREK, Dusty Wessels, and BMW-Certified Off-Road Instructor and 2010 GS Trophy U.S. team member, Bill Dragoo. West38Moto and D.A.R.T. (Dragoo Adventure Rider Training) have teamed up to bring you a professional off-road training immersion tour of five days riding the rugged Wyoming BDR. This immersion tour is intended for beginner to intermediate level riders.  The group will meet at the Boyer YL Ranch in Wyoming for the start of the tour. You will spend five days riding the best of the Wyoming BDR!
Wyoming is home to lots of mountains and, as the least populous state, not so many people. While it's true you may not run into many folks while riding through the Cowboy State, the history is extensive. As you ride trails through several mountain ranges, the high desert, and deep gorges, take some time to appreciate the Indigenous people whose land you're now enjoying; imagine the Sundance Kid and Butch Cassidy on the same route you're taking and acknowledge the past and present contributions of Wyoming's resources to American life. What an opportunity to pair an exhilarating ride with such rich history!
Join us on this 5 day 6 night Best of the BDR tour of Wyoming! We will be following most of the Wyoming BDR route and add in fun detours and bonus scenic spots. Our riding will take us through some of the most scenic destinations. We will be camping, which will allow us to experience the Best of the Wyoming BDR!
What camping gear should I bring?
You will want to pack the following items:
Tent
Sleeping Bag
Sleeping Pad
Camp Chair
Cup or Vessel for drinks
We will have everything else you need. We'll be cooking meals for you on this tour so no need to bring a stove and utensils unless you want to.
How difficult is the riding?
The route has optional hard sections and easier bypass sections. We will stay together as a group for most of the riding. However, if some of the group feels like tackling a harder section and some do not, the guides will make a decision to split the group for those specific sections so everyone can enjoy their riding.
What kind of motorcycle do I need?
There is no one answer to this question because it depends on preferences, riding ability, and of course, budget. Any motorcycle can be converted into a dual sport bike. Heck, we know people who have converted their Harleys into adventure bikes! For this tour, we will be riding terrain that is big adventure bike friendly (BMW 1200GS, KTM 1290 etc.). However, we have had many customers ride smaller and mid size dual sport bikes and enjoy the ride just as much. If you don't have a bike right now, we can help you with a rental.
Will a support truck be following us?
Yes. Our support truck will be carrying everything we need to set up camp in the wilderness. We will also have room for your gear if you don't want to carry it on your bike.
*Note: Support truck will follow us as long as we get at least 6 People
How do I need to pack my bike?
Pack lightly, efficiently, and in a way that encourages proper bike performance. Feel free to consult with us before the tour about how to pack your bike. We also suggest daily packing of snacks, water, and clothing for layering to adjust for the conditions.
What protection do I need for my bike?
We recommend the following at the minimum:
Note: Not having these items does not mean you can't come on the tour. It just means your bike may get damaged and the protection we recommend is for major working components.
Skid Plate
Crash Bars
Headlight guard
Radiator Guards
What tires do I need for my bike?
We recommend at least a 50/50 tire and even better is a more dirt or off-road focused tire. We will be riding through some technical sections that are more comfortable with a more off road focused tire.
How many people are in the riding group?
We limit our groups to 10 people
How do we handle extreme weather?
We will ride in most weather conditions. However, our guides are well equipped to make the best decision for the group regarding trail and weather conditions and may re-route the riding day.
What should I pack?
For You:
Clothes: Proper riding gear is a must! If you have any questions about riding gear and clothing, feel free to contact us and we can cover this in more detail. In general, people tend to over pack clothing items. Besides riding gear (including a helmet, jacket, gloves, pants, and boots), you will need layers for frequent weather changes. Consider packing a separate set of comfortable clothes/shoes to wear at camp while we are lounging.
For your Bike:
If you have a good set of tools it is not a bad idea to bring them; some people like to be self-sufficient. If you don't have any or want to save room we should have enough tools to fix or repair most bikes on the fly.
July Tour – Meetup Day Monday July 17th after 4:00 pm at the Boyer YL Ranch in Wyoming. Directions and details will be shared upon booking. We will camp at this location and have dinner as part of the tour on this night. We will ride from South to North on the Wyoming BDR starting on Tuesday July 18th. Our last riding day will be Saturday, July 22nd and, we will stay overnight in Burgess Junction. 
August Tour – Meetup Day Sunday August 20th after 4:00 pm at the Boyer YL Ranch in Wyoming. Directions and details will be shared upon booking. We will camp at this location and have dinner as part of the tour on this night. We will ride from South to North on the Wyoming BDR starting on Monday, August 21st. Our last riding day will be Friday, August 25th, and we will stay overnight in Burgess Junction. 

If you drove in with your bike in your truck or on a trailer, we will have a place for you to store them for the duration of the tour.

Exact tour itinerary will be shared upon booking and is subject to change based on weather and/or seasonal road closings.
West38Moto and DART Wyoming Camping Tour
5 Day 6 Night Camping BDR
Professional Instruction

Professional Guide Service

Fully Stocked Support Truck

Hot Showers & Bathrooms

Breakfast, Lunch & Dinner

Fully Stocked Beverage Cooler

Specific GPS Track Route

West38Moto Gift Bag

Motorcycle- Bring your own or rent

Camping Equipment